RobinVOL Trading Signals is the easy way to trade RobinVOL in a portfolio way. If you don't have the required server infrastructure, or you just don't want to update every week the settings you are running, then take a look at RobinVOL Trading Signals.
RobinVOL Trading Signals is a service offered by our main partner since 2013 through MyFXBook. The principles followed are the same described in our RobinVOL Portfolio page: risk control, correlation analysis and market adaptation.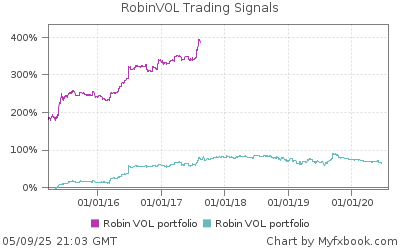 You don't need your own server and Metatrader instance running to be able to execute the Trading Signals on your account.
To trade RobinVOL Trading Signals just follow this steps: